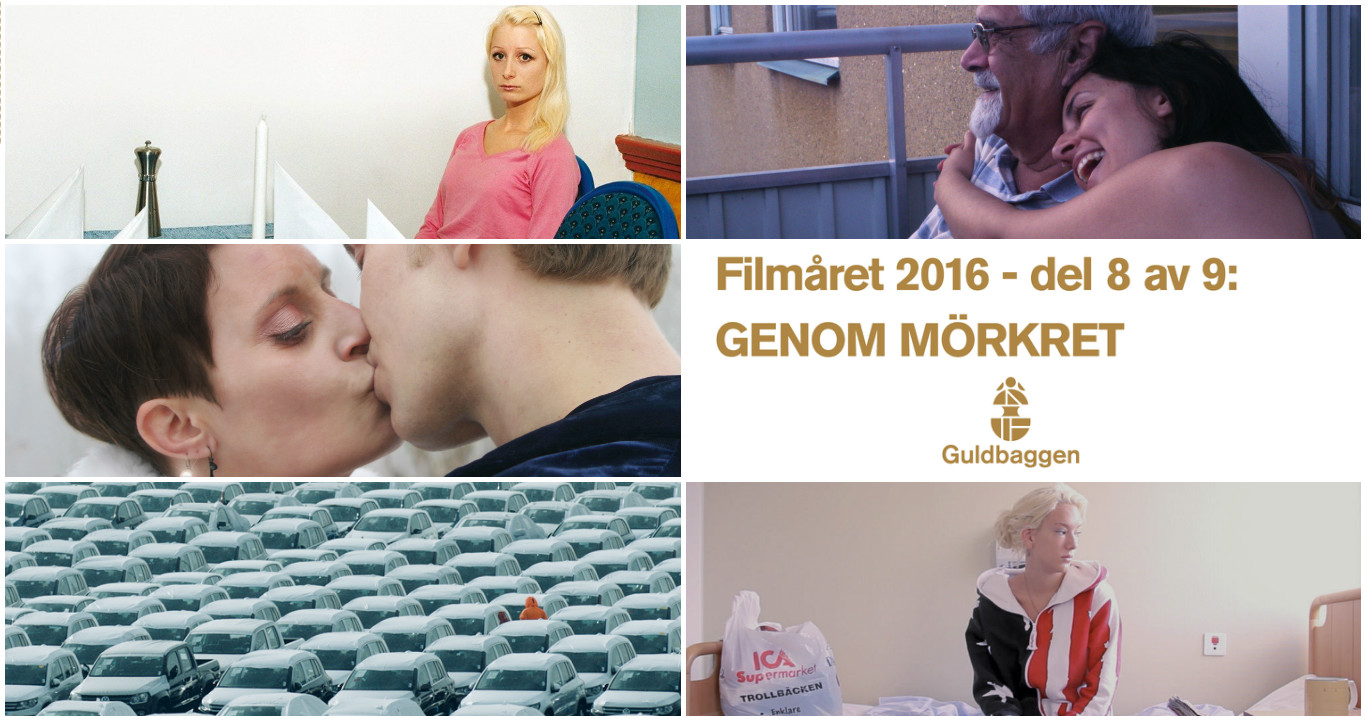 Say Something, Yarden, Skörheten, The Swedish theory of love och MonaLisa Story är filmer som alla på olika sätt leder oss in i mörkret, till de trånga passagerna, dit där livet ställts på sin spets och krävt förändring. Filmer som inte väjer för avgrundsdjup ångest, systematiserad ensamhet, nedåtgående klassresor, missbruk och smärtsamma familjeuppgörelser. 
I nöden prövas inte bara våra vänner och relationer utan också de sanningar vi bygger våra liv kring, vad som egentligen är viktigt och vår självbild.
Vi har samlat ihop filmerna under ett tema vi döpt till Genom mörkret men låter dem även få komma till tals var och en för sig, här nedan.

The Swedish theory of love
Erik Gandini
Premiär: 8 januari 2016

The Swedish Theory of Love undersöker vad oberoende och självständighet som ideal kan innebära för ett samhälle. Våren 1972 samlas en grupp politiker för att skapa en ny vision för Sveriges framtid. Man beslutar att med hjälp av ett antal nya institutioner försöka skapa "Ett samhälle av oberoende individer". Fyrtio år senare undersöker The Swedish Theory of Love olika utfall av detta.

Yarden
Måns Månsson
Premiär: 11 mars 2016

En arbetslös författare tar jobb som transportör vid Yarden, en omlastningsplats för fabriksnya bilar i Malmö hamn. Han blir en främling, ett femsiffrigt nummer som tvingas manövrera mellan sina misstänksamma kollegor och en övervakande kontorsledning.

Say something
Åsa Ekman
Premiär: 18 mars 2016

Isabell har vuxit upp med en hårt kämpande ensamstående mamma. Men när mammans nya kille kommer in i bilden blir deras liv ett rent helvete. Mamman blir utsatt för misshandel och Isabells uppväxt kommer därifrån att präglas av våld. Som 15­-åring får hon nog och får mamman att polisanmäla mannen och söka hjälp. I de övre tonåren försöker Isabell sedan hantera sitt förflutna genom att flytta utomlands. Hon inser att detta inte är en lösning och väl tillbaka igen försöker Isabell och hennes mamma att ta itu med sina problem

MonaLisa story
Jessica Nettelbladt
Premiär: 25 mars 2016

MonaLisa levde ett vanligt liv som lärare och småbarnsmamma. En depression slår tillvaron i bitar, hon självmedicinerar med heroin och förlorar allt. Efter år av missbruk möter hon Fredrik. Kärleken får dem att kämpa för att bryta destruktiva mönster och försöka förverkliga sina drömmar. En dokumentär filmad under åtta års tid.

Skörheten
Ahang Bashi
Premiär: 16 september 2016

När karriären går som bäst faller dokumentärfilmaren Ahang Bashi ner i en djup svacka av panikångest och depression. Med kameran som verktyg tar hon med oss tillbaka i tiden, till flykten till Sverige och den lilla flickan som inte förstod.